Everything You Need To Know About Blinds For Bedroom Windows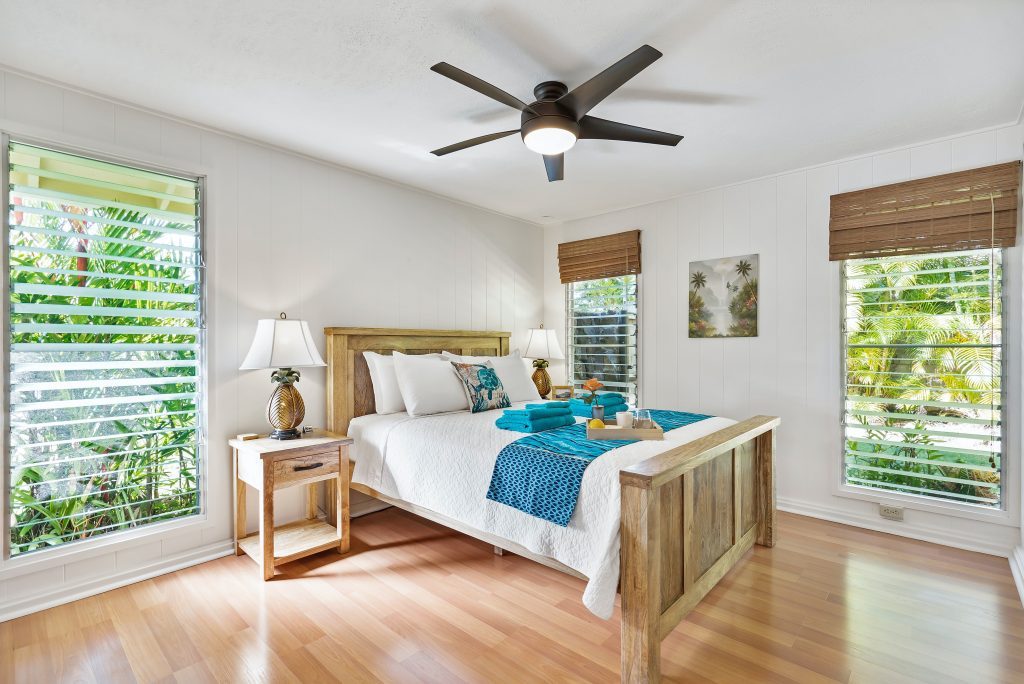 When it comes to blinds for bedroom windows, we believe privacy is what you need to consider first.
The bedroom is your sanctuary and calm oasis from the days' hurly burly. It is essential that your bedroom is protected from the outside. Starting with what type of blinds for bedroom windows here are our top recommendations when it comes to privacy.
Venetian Blinds – the very construction of a Venetian Blind is centred around providing you with options to either increase or decrease your privacy, light and air flow. When a venetian blind is fully closed there is total privacy or fully open allows you to regulate light and air.
Roller Blinds – depending on the fabric colour or pattern, rollers blinds are an excellent choice for blinds for bedroom windows. Darker fabrics and patterns are great as are blackout blinds, when you want to have total privacy.
Vertical Blinds – again a wonderful choice when considering blinds for bedroom windows. Like the Venetian blind, Roller blinds offer you the opportunity to either decrease or increase privacy, from fully open to totally closed.
Next on our tips for getting the very best out of Blinds for Bedroom Windows is colour selection.
Darkness – most of us prefer the room to be dark when we are off to bed, so when considering your colour choice for blinds for bedroom windows, darker hues are the way to go. In particular greys, browns and blacks are the obvious choices to ensure you have a nice dark room for bedtime.
Harmony – the bedroom is your private oasis and if you want to create a calming and tranquil space then try to match your blind colour choice with that of your existing bedroom colours. Tonal colours such as cream, tan, light blue and purples can all be matched with a complementary blind colour.
Feature – on the other hand you can equally make your windows in bedrooms pop with bright colours to accentuate the bedroom window space. Consider yellow, orange, bright blue and pinks to get a burst of colour in your room.
Now consider air flow and cold/heat conditions within your bedroom when selecting blinds for bedroom windows. You want to make sure your bedroom is going to be cool in summer and warm during the winter and choice for blinds for your bedroom windows can also provide you lots of options
Ventilation – nothing worse than trying to get to sleep when the room is blisteringly hot. Here we recommend either Verticals or Venetian blinds for your bedroom windows. These two styles offer you the greatest number of options when allowing breeze to flow through the room or keeping it out.
Decorating your bedroom with new window blinds from Venluree Blind Services can be just the start of the project to enliven your bedroom. Here are some more tips to decorate your bedroom.
Depending on your style, select either subdued colours or rich tones to give you that peaceful place feeling.
Don't forget your ceiling – when that's what you're going to be looking at, paint the ceiling a slightly lighter colour than the walls, this will visually lower the ceiling and give you a feeling of comfort and intimacy.
Keep it simple – a bedroom should look cosy and simple, sophisticated and elegant regardless of what decorating style you select.
Add flowers and plants, not only to brighten the look and feel but also they will help with producing oxygen.
Pillows, pillows, pillows – you can never have too many beautiful pillows on your bed, Select contrasting or matching colours with your linen.
We hope this blog has provided you with helpful tips to choose the perfect blinds for your bedroom window while proving some inspiration on décor. With more than 30 years' experience in the blinds business, we have tons of knowledge. Don't hesitate to give us a call on 0800 999 229 or book a free in-home consultation at www.venlureeblids.co.nz.